| | | |
| --- | --- | --- |
| Talon Sentinel Intelligent Signal Scanning Recording Systems | | |
Pentek's SentinelTM recorders add intelligent signal monitoring and detection for Talon real-time recording systems. The intuitive GUI allows users to monitor the entire spectrum or select a region of interest, while a selectable resolution bandwidth allows the user to trade sweep rate for a finer resolution and better dynamic range. Scan settings can be saved as profiles to allow for quick setup in the field.
RF energy in each band of the scan is detected and presented in a waterfall display. Any RF band can be selected for real-time monitoring or recording. In addition to manually selecting a band for recording, a recording can be automatically started by configuring signal strength threshold levels to trigger a recording.
The Sentinel hardware resources are controlled through enhancements to Talon's SystemFlow® software package that includes a Virtual Oscilloscope, Virtual Spectrum Analyzer and Spectrogram displays, providing a complete suite of analysis tools to compliment the Sentinel hardware resources.
RF Scanner GUI
An RF Scanner GUI allows complete control of the system through a single interface. Start and stop frequencies of a scan can be set by the user as well as the resolution bandwidth. All user parameters can be saved as profiles for easy setup in the field.
Frequency slices from the waterfall display can be selected and monitored, allowing the user to zoom into bands of interest. Threshold triggering levels can be set to record signals that exceed a specified energy. Recordings can also be manually started and stopped from the RF Scanner GUI.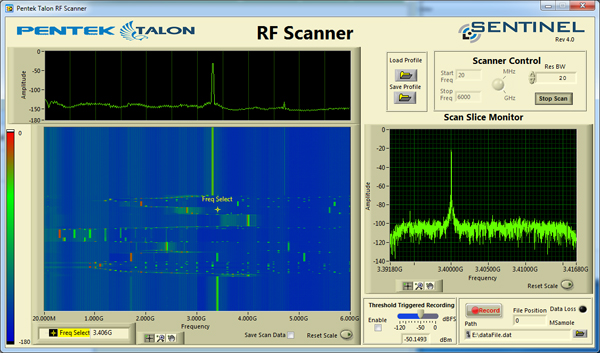 Please contact Pentek at 201-81-5900 or sales@pentek.com for more information on which Talon recorders can utilize the Sentinel software.
| | |
| --- | --- |
| Model | Description |
| Model 2623 | Talon 6 GHz RF/IF Sentinel Intelligent Signal Scanning Portable Recorder |
| Model 2620 | Talon 6 GHz RF/IF Sentinel Intelligent Signal Scanning Rackmount Recorder |
Pricing and Availability
For the latest pricing, delivery and available options, please fill out this form and your request will be delivered to the appropriate department. To learn more about our products or to discuss your specific application please email our sales department at sales@pentek.com, contact your local representative or Pentek directly:
Mario Schiavone
Sales Director
Pentek, Inc.
One Park Way
Upper Saddle River, NJ 07458
USA
Tel: +1 (201) 818-5900
Fax: +1 (201) 818-5904
sales@pentek.com
Map + Directions
---
---
Pentek, Inc. • One Park Way, Upper Saddle River, NJ, 07458, USA
Tel: +1 (201) 818-5900 • Fax: +1 (201) 818-5904 •
Map + Directions
Site Map
• Copyright © 2017 Pentek, Inc. All Rights Reserved.